Archer Daniels (ADM) Gains on Solid Nutrition Unit, High Demand
Archer Daniels Midland Company ADM looks well-positioned on the back of solid demand for most of its products and continued strength in its Nutrition segment. Solid performance in its Ag Services & Oilseeds, and Carbohydrate Solutions also bode well.
Speaking of its Nutrition segment, revenues at the segment rose 20.6% year over year in second-quarter 2021. The segment's adjusted operating profit grew 27.2% year over year, owing to significant gains in the Human and Animal Nutrition units. Within the Human Nutrition unit, the North America and EMEA regions gained from strength in the flavors business, stemming from higher volumes and better product mix, particularly in the beverage category. Sales growth in specialty proteins aided the Specialty Ingredients unit, while robust sales and margins in probiotics contributed to the Health & Wellness category.
The Animal Nutrition unit grew year over year, owing to positive demand and margins in amino acids, strength in feed additives and ingredients, and improved performance in the EMEA region, which more than offset the adverse impacts of COVID-19. Management, on its last reported quarter's earnings call, hiked the 2021 operating profit growth guidance for the Nutrition segment to 20%.
Some other notable efforts in the global nutrition unit include the acquisition of pet treat and supplement manufacturers namely PetDine, Pedigree Ovens, The Pound Bakery and NutraDine; Europe-based non-GMO human nutrition protein solution, namely Sojaprotein; and Vietnam-based animal nutrition premix provider, Golden Farm.
What Else Do You Need to Know?
Archer Daniels remains on track with its three strategic pillars — optimize, drive and growth. Under the optimize pillar, the company is on track with improvement in its key businesses — the Decatur complex, Golden Peanut and Three Nuts. It also continues to adapt to consumers' changing nutritional preferences.
Under its drive pillar, the company continues to adapt to its new organizational structure to reach operational excellence and set goals. Under the growth pillar, management is looking to expand its footprint in fast-growing alternative protein. The company is making efforts to enhance its animal nutrition capabilities along with advanced innovative technologies and improved operating capabilities.
Management also highlighted that 2021 started on a solid note and it is likely to retain momentum in the second half of 2021. As a result, the company on its last reported quarter's earnings call envisioned another year of strong earnings growth in the high-single digits. It is also progressing well with its Readiness program, which is focused on accelerating and enhancing competitiveness.
Consequently, shares of this Zacks Rank #2 (Buy) stock have gained 27.4% year to date compared with the industry's growth of 0.8%.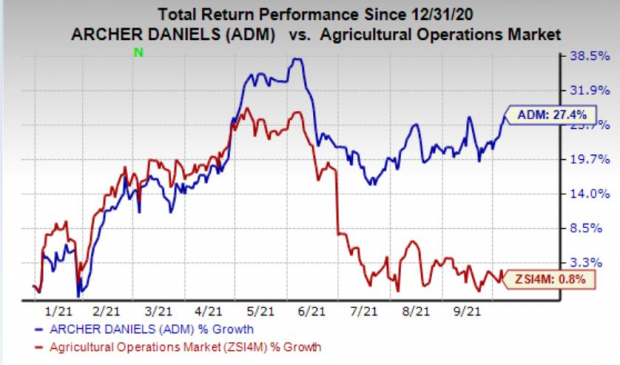 Image Source: Zacks Investment Research
Bottom Line
All said, we believe that Archer Daniels is likely to sustain its positive momentum on the back of solid demand and strength in the nutrition unit. The Zacks Consensus Estimate for 2021 earnings is pegged at $4.82 per share, indicating an increase of 0.6% in the past 30 days. Topping it, a VGM Score of A and a long-term earnings growth rate of 8.2% reflect its inherent strength.
Better-Ranked Stocks to Consider
Helen of Troy HELE has an expected long-term earnings growth rate of 8% and it currently sports a Zacks Rank #1 (Strong Buy). You can see the complete list of today's Zacks #1 Rank stocks here.
Darling Ingredients DAR, another Zacks Rank #1 stock, has an earnings surprise of 39.12%, on average, for the trailing four quarters.
Albertsons Companies ACI, a Zacks Rank #2 stock, has an expected long-term earnings growth rate of 12%.
Infrastructure Stock Boom to Sweep America
A massive push to rebuild the crumbling U.S. infrastructure will soon be underway. It's bipartisan, urgent, and inevitable. Trillions will be spent. Fortunes will be made.
The only question is "Will you get into the right stocks early when their growth potential is greatest?"
Zacks has released a Special Report to help you do just that, and today it's free. Discover 7 special companies that look to gain the most from construction and repair to roads, bridges, and buildings, plus cargo hauling and energy transformation on an almost unimaginable scale.
Download FREE: How to Profit from Trillions on Spending for Infrastructure >>
Archer Daniels Midland Company (ADM): Free Stock Analysis Report
Albertsons Companies, Inc. (ACI): Free Stock Analysis Report
Darling Ingredients Inc. (DAR): Free Stock Analysis Report
Helen of Troy Limited (HELE): Free Stock Analysis Report
To read this article on Zacks.com click here.
The views and opinions expressed herein are the views and opinions of the author and do not necessarily reflect those of Nasdaq, Inc.