Archer Daniels (ADM) Steps Up Its Pet Game, Adds P4 Companies
As the pet industry looks lucrative, Archer Daniels Midland Company ADM entered a deal to acquire a majority stake in pet treat and supplement manufacturers namely, PetDine, Pedigree Ovens, The Pound Bakery and NutraDine ("P4"). The deal, which is worth roughly $600 million, will allow Archer Daniels to own 75% of the shares of the four enterprises. It also allows the company to possess the remaining 25% if the parties agree upon a market price in the near term.
The move is part of Archer Daniels' strategy to transform via investments in high-growth categories such as pet nutrition. Pet ownership and adoption rates are currently at an all-time high. With pets emerging as an integral part of people's lives, pet owners are doing it all to ensure the well-being of their loyal companions by preferring natural products, with quality ingredients and better packaging. Notably, the pet food industry is currently valued at $110 billion in global sales, on an annual basis, and is expected to reach $140 billion by 2026.
Consequently, Archer Daniels is leaving no stone unturned to cash in on the ongoing pet boom. Some notable efforts to meet the growing demand are constructing production facilities; acquiring pet treat and food provider Crosswind, and Neovia's global pet nutrition business; and opening its animal nutrition technology center in Decatur.
With the addition of the P4 companies, Archer Daniels will be able to offer customers a complete range of highly personalized pet treat and supplement products, including baked treats, semi-moist treats, long goods, blends, unique proteins, soft chews, liquids and powders across 15 countries. Alongside these, the company is buying P4's state-of-the-art production and innovation facilities in Illinois and Colorado. P4 also comes with a solar power-packed production facility in Harvard, IL, which can offset almost 1,500 tons of greenhouse gas emissions on an annual basis.
The increased focus on pet nutrition is likely to boost Archer Daniel's animal nutrition segment and, hence, drive top-line growth. In second-quarter 2021, the animal nutrition unit grew year over year, owing to positive demand and margins in amino acids, strength in feed additives and ingredients, and improved performance in the EMEA region, which more than offset the adverse impacts of COVID-19. The company is also considering the enhancement of its animal nutrition capabilities through technology advancement and product innovation.
Shares of this Zacks Rank #3 (Hold) stock has rallied 21% year to date compared with the industry's growth of 2.5%.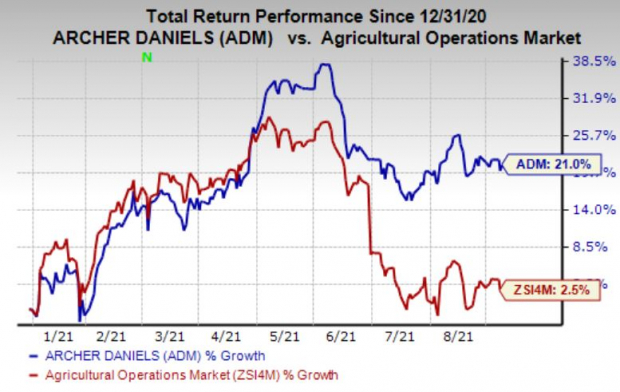 Image Source: Zacks Investment Research
Better-Ranked Stocks to Consider
Pilgrim Pride Corporation PPC, currently a Zacks Rank #1 (Strong Buy) stock, has an expected long-term earnings growth rate of 31%. You can see the complete list of today's Zacks #1 Rank stocks here.
Albertsons Companies ACI has a long-term earnings growth rate of 12% and a Zacks Rank #2 (Buy) at present.
Helen of Troy HELE currently has an expected long-term earnings growth rate of 8% and a Zacks Rank #2.
Breakout Biotech Stocks with Triple-Digit Profit Potential
The biotech sector is projected to surge beyond $2.4 trillion by 2028 as scientists develop treatments for thousands of diseases. They're also finding ways to edit the human genome to literally erase our vulnerability to these diseases.
Zacks has just released Century of Biology: 7 Biotech Stocks to Buy Right Now to help investors profit from 7 stocks poised for outperformance. Recommendations from previous editions of this report have produced gains of +205%, +258% and +477%. The stocks in this report could perform even better.
See these 7 breakthrough stocks now>>
Archer Daniels Midland Company (ADM): Free Stock Analysis Report
Albertsons Companies, Inc. (ACI): Free Stock Analysis Report
Pilgrims Pride Corporation (PPC): Free Stock Analysis Report
Helen of Troy Limited (HELE): Free Stock Analysis Report
To read this article on Zacks.com click here.
The views and opinions expressed herein are the views and opinions of the author and do not necessarily reflect those of Nasdaq, Inc.