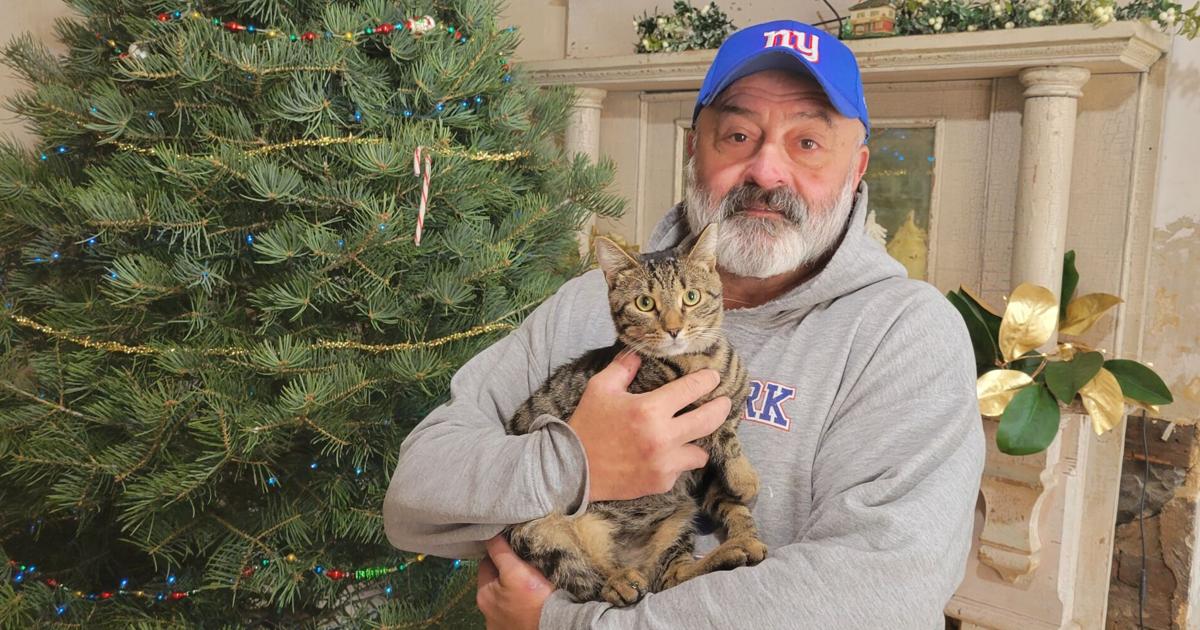 Citizen group clashes with New Berlin council over cats | News
NEW BERLIN — A group of private citizens in New Berlin working to trap, neuter and return feral cats are being told to stop feeding the stray animals by the New Berlin Borough Council.
Ed and Sharnel Pilko, members of Cherished Cats Rescue Alliance, and other citizens attended the borough council meeting last week to voice their opposition that some council members want to stop the feeding of stray cats. A suggestion to form a committee to clarify the current borough ordinance was shot down.
"If you stop feeding them, they'll find other places to find food, like in your trash cans," said Ed Pilko. "The bottom line is science is on the side of trapping them, neutering and spaying them, getting them vaccinated and then either releasing them or getting them homes. That's the humane thing to do. Anything different is absolutely cruel, ridiculous and ineffective."
Since September 2020, the Pilkos have neutered 43 cats, adopted three, rehomed others through their own funding plus grants from Cherish Cats, 501(c)(3) nonprofit organization focused on saving feline lives in Central Pennsylvania. Sherrie Benjo, of New Berlin, has also trapped and neutered at least a dozen cats.
The conflict between the citizens and council started last month after complaints were made to the borough about feral cats. It was suggested that the citizens stop feeding the cats and let them starve.
Trap-neuter-return
According to Alley Cat Allies, a nonprofit animal welfare organization, "Trap-Neuter-Return is the humane, effective and mainstream approach to addressing community cat populations."
In a TNR program, according to Alley Cat Allies, "community cats are humanely trapped, brought to a veterinarian to be spayed or neutered, vaccinated, ear-tipped and then returned to their outdoor homes. Kittens less than 8 weeks old can be socialized and then adopted. Adult cats who are socialized can be adopted, but they can also be returned outdoors where they will continue to thrive."
Efforts to terminate wild cats populations produce the "vacuum effect" when other cats move into the newly available territory and continue to breed. New cats will not be vaccinated or neutered, and the process would start again, according to Alley Cat Allies.
Public meeting conflicts
The public meeting on Wednesday night started with conflict before it even started. Borough Council President Juilianne Finkbiner told the group they were only allowed one person to talk about the feral cat issue, prompting resident David Farmer to argue that she was violating the Pennsylvania Sunshine Act (Open Meetings Law).
When Finkbiner relented and the meeting started, she told the citizens they would only be allowed two minutes to speak instead of the usual five minutes. More arguments ensued, prompting Finkbiner to shout at the citizens.
"This council has stuff to do and we have jobs," said Finkbiner. "This is annoying. Do you know why I do this job? Because no one else will do it."
With Finkbiner and the citizens arguing, borough secretary Rebecca A. Witmer called the sheriff department and two deputies showed up about 30 minutes later to supervise the meeting. The conversation went on for approximately an hour with citizens asking the board to support their program.
Pilko: Success, not failure
Sharnel Pilko handed out information and letters of support to the borough council at Wednesday night's meeting from Alley Cat Allies, Cherished Cats Rescue Alliance and the Humane Society. She said Monroe Township, Penn Township and Selisngrove all provide funding and practice trap-neuter-release programs and post-feeding.
"We want to keep this going at no cost to the borough but doing it in the right way," said Pilko. "Let's work together for success and not failure."
Pilko also said it could be a criminal act of animal cruelty to not feed the animals after having fed them for so long.
Finkbiner said the members of council appreciate the spay-neuter program. But, she said, when a person is feeding an animal, they should be held responsible for the damage those animals do to people's property. She said feeding feral cats would attract other unwanted animals.
"It's the council's job to protect the safety of the citizens and the rights of the citizens. It's the council's job to think about the people and property of the borough," said Finkbiner.
Liability issues
Solicitor Wendy Cole, of Lewisburg, said the current ordinance as written does not allow for feeding. If the borough allows for feeding, Cole said there's a question of liability.
The original ordinance was co-written by Borough Mayor Bonnie Hamilton, who will leave office in January, to control the cat population with the trap-neuter-return program in mind. It was written earlier this year to address the growing population of feral cats with the intention that "feral cats lie somewhere in between" wild and indoor pets.
"This is is why we did the program," Hamilton said. "There are real people, real children in our community who used to come across sick, unhealthy animals that caused problems, coming across dead kittens. This is not pleasant. How you work it is you manage it. You will never get rid of all feral cats."
The original ordinance was "a good faith middle ground between feeding bans that weren't working and people feeding them and letting them run wild," said Hamilton.
The mayor said she regrets writing the ordinance with such ambiguity.
"I want it to be fixed, I want it to be better," she said. "The ordinance as it's written isn't good. That's on me. I take responsibility. It's not clear. We need to figure out how to make it clear."
A motion to form a committee to review and rewrite the ordinance in order to find a common ground with members of the community was made but it died for lack of a second.