Community gathers to trick-or-treat, witness cat's second life | Local News
SHERIDAN — The day began with Suzie Q, the beloved mascot of Second Chance Sheridan…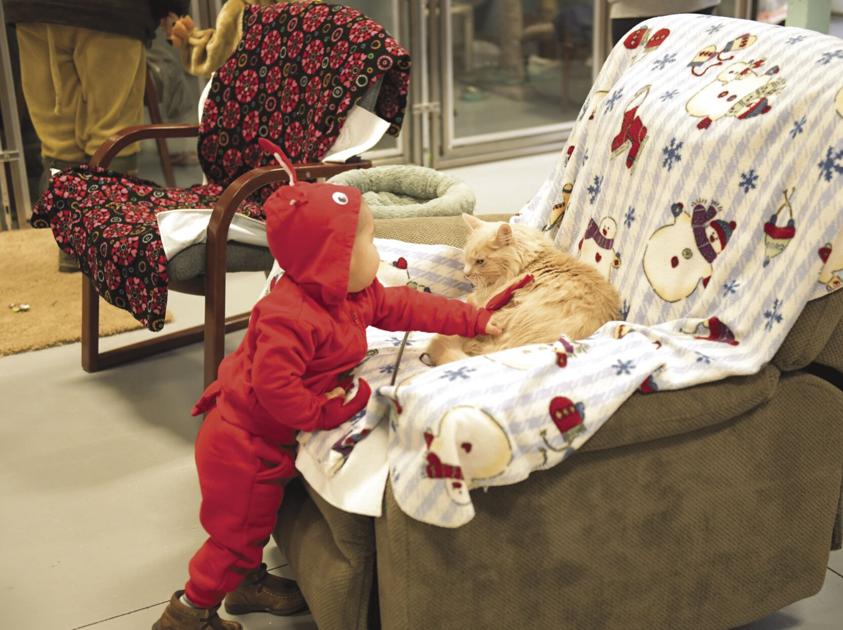 SHERIDAN — The day began with Suzie Q, the beloved mascot of Second Chance Sheridan Cat Rescue, putting on a crown. It tugged at her mottled gray ears, but she wore it anyway. After all, she was hosting a costume party. 
Costumed kids and their families filed into Second Chance Sheridan Saturday to visit with Suzie Q, feline queen, and grab handfuls of Halloween candy to add to their annual plunder. The youngsters leaned down to pet Suzie Q, who maintained a blanketed seat of honor next to the big blue bowl of candy, and took photos with her. She welcomed a triceratops, several superheroes and a mad scientist, among many others, to the cat rescue. 
After visiting with Suzie Q, children and their assorted grown-ups marched to the rescue's main room, a sprawling array of blankets and cat towers, as well as plenty of cats and kittens to play with. Suzie Q didn't seem to mind the brevity of these visits. There was always a line of costume-clad admirers, waiting to trick-or-treat with Suzie Q.
But Suzie Q's start at Second Chance Sheridan Cat Rescue, explained Executive Director Misty Rios, was far from royal. 
Authorities found Suzie Q in 2016, Rios said, as she dragged herself out from under a car in South Dakota, her fur caked with blood and purple paint. Someone had shot her in the spine, spray-painted her and left her to die. 
After the near-fatal injury, Suzie was taken to Second Chance Sheridan Cat Rescue, where — somehow — she survived. She has been the rescue's spokes-cat ever since. 
In the five years since her arrival, Rios says Suzie Q has thrived. She is still paralyzed, but she's learned to walk on her two front paws, dragging the back two behind her. And paralysis has never stopped Suzie from climbing to the top of the rescue's highest cat trees. 
Suzie Q also learned to trust humans again, despite abuse in her past, sitting comfortably on her hind legs or kneading her blankets as child after child petted her Saturday. 
"You're being such a good girl, Queen Suz," Rios encouraged the cat as more trick-or-treaters arrived at the rescue's door. 
Some trick-or-treaters brought gifts for Suzie Q and the rescue. One family, clad in Addams-Family-themed costumes, arrived with armfuls of paper towels for the rescue. The Conway family drove from Hardin, Montana, to see Suzie Q and offer a monetary donation. After Second Chance took in a special needs cat they could no longer care for, the Conways said, they wanted to contribute to the rescue's work. 
Sarah Hadfield, a cat care specialist at Second Chance, explained the event also offered community members the opportunity to witness and understand the rescue's work. These events show donors what their contributions do in practice, Hadfield explained, and build support from the Sheridan community. 
"It's always good to invite people in and let them see what we do here," Hadfield said.
To encourage awareness, Rios said Suzie Q will be hosting one event each month this year, starting with a Thanksgiving-themed food drive during November and a Santa Suzie meet-and-greet in December.
These events, Rios explained, are one way for the rescue to give back to Sheridan, the community that supported its growth, and demonstrate the quality of life they offer to disabled and special needs cats.
Suzie Q's story, Rios said, shows "second chances are definitely worth it."