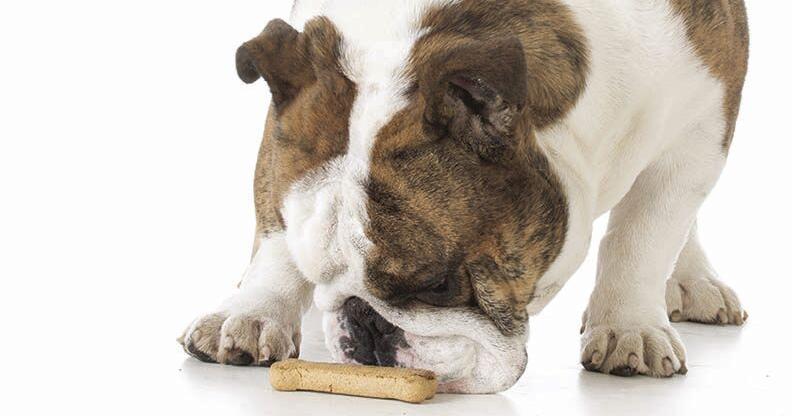 Keeping Up with the Latest Dog Treat Trends | Current Issue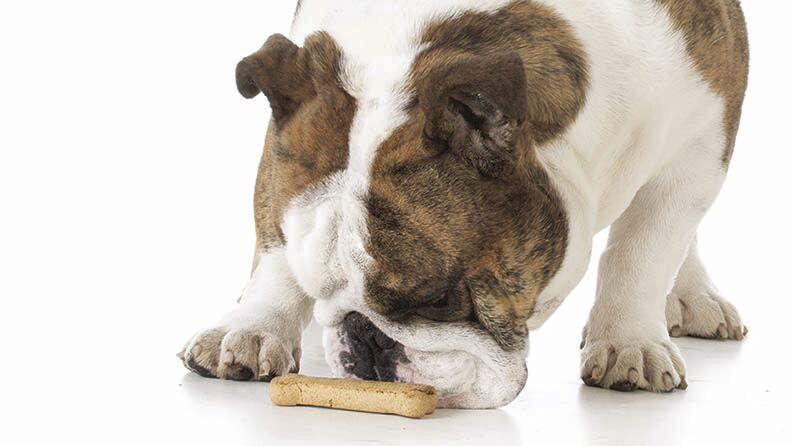 There's nothing like seeing the pure joy and immediate attention a dog gives to that special treat they love. Whether treats are used to get a dog's attention, reward them for positive behavior, or for a more nutritious purpose, they make pets very happy. Of course, a happy pet means a happy pet parent. 
In fact, almost all pet parents (93 percent) purchase treats for their pets, according to the American Pet Product Association's APPA 2021-2022 National Pet Owners Survey. The survey found that one-third of owners' say they purchase three to five packages of treats per year, while between one-fifth and one-quarter purchase one to two or six to 10 packages. 
As one of the most frequent purchases a pet owner makes, and with a vast amount of options in the market, it's imperative that retailers stay up-to-date on the latest trends in this category. 
Trend Watch
According to APPA's survey, meat treats continue to be the most popular, followed by natural treats. 
Another way to gain more insight about the latest up and coming trends in the pet world is to see what's popular in the human world. 
"Always closely watching and following human trends, retail partners are looking for treats that have limited ingredients, but also treats that showcase where the ingredients are made and sourced," says Eric Abbey, president and founder of Loving Pets. "Today's pet parent wants to know exactly what is inside, and where it's from." 
Being transparent about what a product consists of, where it's sourced and how it's made, helps pet parents feel confident that their pet's treats will be beneficial for pets and that they align with their values (i.e. eco-friendly, sustainably-sourced, etc.) 
"Pet parents want and expect transparency in sourcing and manufacturing practices; safe options, meaning digestible and safe for consumption; and chews that offer benefits they can quickly recognize and relate to," says Lindsay Tracy, vice president of business development at Redbarn.
Of course, one of the main benefits of using treats is that it makes dogs happy, but there are now a range of functional treats tailored to help treat or prevent a health condition. Over the past two years, more pet parents have had a chance to learn more about their pets and their needs, and are looking for treats that can address them  
"During quarantine pet parents were spending more time with their pets and observing more closely changes in their pet's health," says Jessika Zulic, senior brand manager for Dogswell. "As a result, functional treats that support the immune system, gut health, and even skin and coat support are growing in popularity." 
For this little extra health boost, many parents are willing to pay a little extra. 
"[Consumers] are looking for more premium products, with more premium claims – chews with functional ingredients that serve a purpose in the pets' nutrition, and no "filler" ingredients," adds Tracy. 
These treats can act as a supplement for a dog's diet and provide nutritional support that may be missing in a dog's overall diet. 
"Whether they are seeking a daily dental chew like Ora-Bone and Toothsticks to help fight dangerous tartar and plaque or stinky breath, or they are looking for a great low-fat training treat like Houndations, or they seek treats that not only taste great but can also offer supplemental health benefits too like Activ-Petz (hip & joint, skin & coat, etc.), Loving Pets can deliver," says Abbey. 
Retailers should expect manufacturers to deliver the high-quality products and be focusing on crafting new and improved formulas and formats. 
"As a company that prioritizes innovation, we are always brainstorming, testing and eventually manufacturing new dog chews," says Tracy. "Our mission remains unwavering, though— to provide food, treats and chews that not only speak to current desires and trends of pet parents, but genuinely support the health, wellness and longevity of our four-legged family members." The company's recent chew innovations include collagen sticks, braids, springs and rings; pork twists; bully links; trachea rings; and air-dried meat cuts.
Avoiding Mistakes
While everyone loves treating pets to new and exciting products they'll love, pet parents need to restrain themselves from treating too often. Of course, when trying to lose or maintain a certain body weight, people count calories to ensure they're on track with their goals. While people may not track their pet's calorie count as closely, it's important to be aware of their overall intake on a daily basis. 
"With the rise in pet obesity, it is important that pet parents make the connection that healthy treat choices are part of an overall nutrition plan," says Zulic. 
"When feeding treats, calorie intake of food should be adjusted to account for the additional treat calories." 
Abbey says that, on top of treating dogs too often, some pet parents may give pets treats with empty calories. "These mistakes can be corrected by educating the consumer on promoting health from the inside-out with treats with benefits." 
Ultimately, offering this education will help support a pet's overall wellness. 
"Making healthy treat and food choices and monitoring calorie intake will positively impact their pets' overall health, resulting in longer healthier and happier lives together,"adds Zulic.
Of course, another mistake pet parents may make is grabbing a high-quality product that's not the best fit for their pet. It's imperative that retailers help customers navigate this category so they find the right chew for their pets' needs, and don't make the mistake of grabbing the wrong one. Tracy believes this could be why chews may sometimes be an overlooked category. 
"Dogs fall into one of three categories: light chewers, moderate chewers, or power chewers," Tracy explains. "Light chewers are often nibblers who don't spend their days chewing on much. Moderate chewers are usually the pickiest of the pack that won't stop chewing on their favorite items but will completely ignore the rest. Power chewers are our dogs who will chew on anything and everything.
"Owners need to pick chews that match their pup's category."    
Increasing Sales

 
There's no denying how powerful the treat category is in the pet world. While the pandemic threw a wrench into everyone's plans, the pet industry as a whole has come out stronger than ever–even on target to exceed previous sales expectations. 
"Our sales continue to grow starting with the pandemic and growing stronger and stronger over the past 18 months," says Abbey. "Many people adopted or purchased new pets during their extended time at home and those who already had pets are treating them more often." 
Aside from continuing to treat new pets, the pandemic also has a few other lasting effects that have benefited this category. 
"Many people are still working from home, so it was the perfect opportunity for anyone that may have been previously hesitant to become a pet parent to bring in a furry friend to spend their time with," says  Tracy. "Obviously, this has led to a growing demand for dog products across the board, including treats. It has shown no sign of slowing down, so it looks like a trend that is here to stay."   
Now that more customers have returned to stores, walking down a vast treat aisle can be daunting for inexperienced pet owners, but that's exactly the moment sales associates can step in and help steer them in the right direction. Since the nature of treats lends itself to impulse sales, retailers need to try and keep this category as dynamic as possible on the shelves. 
"Retailers should continue to lean into more premium products that support these trends," says Tracy. "Customers are looking for options that deliver premium ingredients and good health." 
Retailers should always aim to sprinkle in some fresh products throughout the year to rotate their assortment and keep it exciting for customers. 
"Shapes are a good way to keep their selection fresh and exciting," Tracy suggests. "Sticks, braids, rings, and more are options available for retailers to stock."  
Now, it may be a challenge for retailers to decide what should be stocked on shelves to keep their selection fresh without breaking the bank. Abbey suggests leaning into relationships that pet stores have built with vendors to obtain insights about what the future holds for this growing category. 
"For our retailer partners, this means a closer working relationship," says Abbey. "We want to provide healthy, natural treat solutions for retailers that drive margin and revenue, but we also want to help retailers by offering high quality product-solutions that make life better for pets and the people that love them and help them stay on a budget."  
According to Abbey, this is the primary reason why Loving Pets continues to produce lines year after year, to help supply retailers with new options from a brand they already recognize. 
Given the fast-paced nature of innovation for the treat category, it's important for retailers to also do their own research to stay focused on the future. 
"In today's world, it is all about customization and tailored nutrition," says Zulic. "As the supplement and pet medicine categories grow, we can see this extend to treats with pet parents looking for functional offerings allowing the pet parent to shop for their pets like they do for themselves with targeted wellness areas: Probiotics, Brain, Immunity, etc.
"Being able to offer wellness in palatable treat formats with unique flavors and textures gives the pet parent peace of mind that their furry friend will like the taste and easily get the benefits."  PB