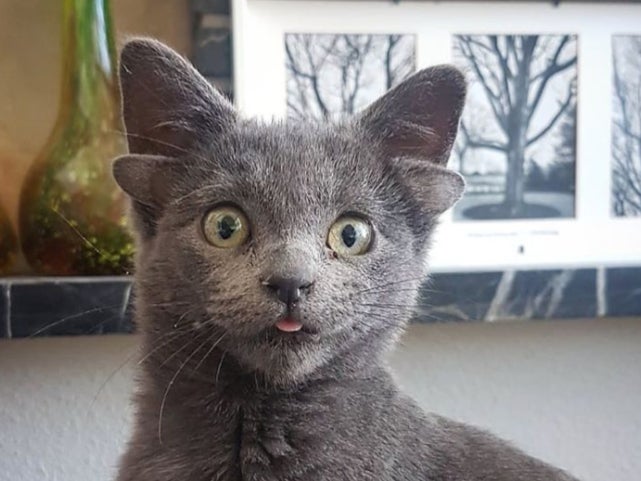 Kitten who was born with four ears goes viral
A cute kitten born with two sets of ears has gone viral after gaining a legion of cat-loving followers on Instagram.
Midas, the four-month-old Russian Blue has already gained over 30,000 followers on Instagram, since the first photo was uploaded to the cat's dedicated account (@midas_x24).
The kitten was a rescue but she has now has found her forever home after getting adopted by owner Canis Dosemeci from Turkey. Midas is now part of the family which also has two Labradors, Suzy, 12, and Zeyno, 14.
It all started when Canis' friend came across a stray cat (Midas' mother) who gave birth to her and six other siblings in the friend's garden, and then took Midas on before she got adopted by Canis.
The cat's four ears – two smaller ears that stick out her normal pair of ears – are a result of a recessive genetic mutation passed from her parents, Ladbible reported.
While they are adorable, the good news is that the extra ears do not affect Midas' hearing after a vet checked her over.
"She is a very playful cat. But very friendly as well," Canis told The Daily Mail. "She sleeps all day and is awake all night.
"She loves to sleep on my chest or shoulder,' the doting owner added.
"She loves to play with yarns, (we have loads of them because of my business), she steals them and hides them somewhere we could never find," Canis explained.
And if that wasn't sweet enough, Midas also has a white heart-shaped patch of hair on her torso.
Of course, the influx of new fans have been supporting Midas' Instagram page with positive comments complimenting the cat on her posts.
One person wrote: "Supawstar."
"You are the cutest!!" Another person said.
Someone else added: "Two sets of ears equals double cuteness!"
"Cat version 2.0: We've added extra ears, also we cranked up the level of cuteness," a fourth person replied.
Sounds like Midas is living the purrfect life.