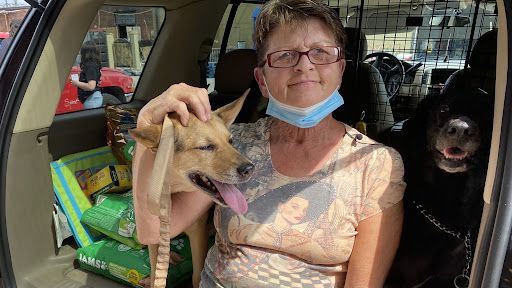 No Kill Louisville Pet Food Bank Supports Hundreds of Pets
LOUISVILLE, Ky. — Adding a furry friend to a family can be fun, but taking care of a pet can get expensive, especially for those on a fixed income.
No Kill Louisville, a community of pet-loving volunteers, provides rescue and adopted animal owners the pet food they need to keep their furry family members at home and out of shelters.
---
What You Need To Know
No Kill Louisville provides support services to keep pets out of shelters
It provides 45,000 lbs. of pet food monthly through its pet food bank 
The organization is fully operated by volunteers
In 2020, the pet food bank had 1,287 visits
---
45,000 lbs. of dog and cat food is sorted in the No Kill Pet Food Bank Warehouse each month, and it's all done by volunteers. 
Many of the volunteers like Phaedra Walker have furry family members of their own. 
"I've had pets my entire life, even in my college dorm, I had a fish. I always had to have a pet," Walker said. 
For six years, she's been helping No Kill provide pet food to owners in need of a little help. Walker has three dogs: One is a rescue she found through No Kill Louisville. 
"I want to help them because I understand that pets are family, and you want to feed them just like you would feed your child or your spouse or anybody else in your family," Walker said. 
Twice a month, volunteers distribute pet food to 150 fur owners. 
Gloria Gilley's family includes three cats, a rescue dog, Bella, and her service animal Lizzy. 
"Wherever I go, they go," Gilley said. 
The dogs' favorite stop is the No Kill Louisville Pet Food Bank warehouse. 
"I'm on a fixed income and it really helps. It gives them good nutritious food. My pets… it's like Christmas when I bring a bag of food," says Gilley.
For Walker, alleviating pet owners from having to decide between putting food on their plate or in their pet's bowl is fulfilling.  
"I know the joy of having them and I just want everyone to be able to do that to have that experience. That's why I show up here in the snow and the rain in the searing heat, doesn't matter. We're going to be there," says Walker. 
No Kill Louisville is always in need of volunteers. You can find more information on how you can help or donate on their website.