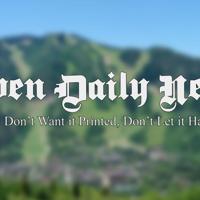 Editor:
Recently, I had a lovely hike up Highlands Bowl. I stopped by the ski patrol hut on my way down and congratulated some ski patrollers for not running the Highlands snowcat in order to put hikers one small hill closer to their goal.
I was quickly informed that the snowcat will, in fact, be running daily by next week.
How does Aspen Skiing Co. plan to separate people on the snowcat to keep them safe from COVID? Typically skiers are tightly packed like sardines, or perhaps in these times, more like lemmings. Barely a few inches between faces and not even close to 6 feet — most skiers will be wearing neck gaiters, certainly not N95 masks.
The recent catastrophic flooding in Kentucky, ferocious wildfires in Boulder County, and fastest-ever spreading omicron variant may all be ­symptomatic of our too high atmospheric greenhouse gases. As of Jan. 10, carbon dioxide is at 417.69 parts per million. It's even worse than that, as this very high figure does not include methane and other greenhouse gases.
Clearly, it seems reckless and ridiculous to run the Highlands snowcat back and forth repeatedly from 11 a.m. to 2:30 p.m. every single day. This carbon-spewing COVID petri dish can only make things worse. It is past time for SkiCo to park the cat.
Laurel Pace
Aspen