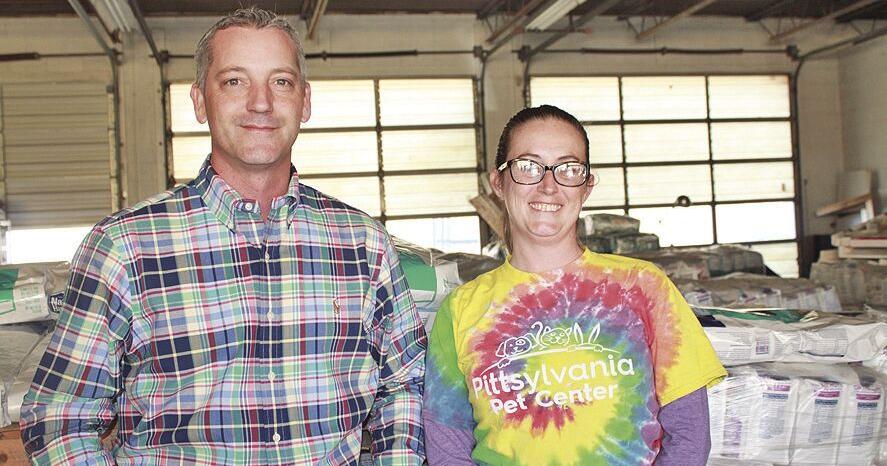 Pet center hosts massive food pantry | News
CHATHAM, Va. — The Pittsylvania Pet Center held a massive pet food pantry Friday thanks to a partnership with Seattle-based charitable nonprofit GreaterGood.
While the pet center receives financial backing from Pittsylvania County for operational expenses, it relies on donations and fundraising for unexpected medical costs and other unpredicted circumstances. For that reason, Pet Center Director Brent Weinkauf partnered with GreaterGood to procure 42,000 pounds of pet food, mostly dog food, for a nominal fee.
"It's a great deal," Weinkauf said. "They reached out to me and asked if I was interested, and I said, 'Heck yes. This is a great opportunity.'"
For a $10 donation, county residents at the pet food pantry received two 25-pound bags of dog food that retail for $50 to $60 each. Weinkauf noted that GreaterGood works nationwide to obtain pet food below-cost from companies' overstock.
"Especially with the economy right now, this is a great thing for all the citizens of Pittsylvania County," Weinkauf said. "We're making sure that there's no animals not being fed."
The Pittsylvania Pet Center will use the proceeds from the pet foot pantry to buy a new bathtub for washing animals under the facility's care. With that purchase, Weinkauf said, the pet center will be empowered to enhance on-site dog grooming. Further donations beyond the cost of the bathtub will be diverted to emergency medical care for animals at the pet center.
"We're excited to be able to have this opportunity to help out all the residents of Pittsylvania County," Weinkauf said. "With our economy right now, for a lot of people, it's tough to pay $20 or $30 for a bag of dog food, and that might be the difference of them being able to keep their animal through tough times."
Weinkauf said this event would help minimize pet surrenders this holiday season, which is mutually beneficial to local residents.
"If we get food into the people's hands for a good, reasonable donation, they're not going to come in here and surrender them because they can't feed them," Weinkauf said. "That also saves taxpayers money because now the pet center is not having to pay to feed them."
Excess pet food is still available at the pet center for a small donation. Dry dog food has a shelf life of 12 to 18 months.
"If my dog ate this stuff, I'd come here and buy a whole pallet," Weinkauf said.
With the pet food pantry in the rear-view, Weinkauf is turning his attention to the Pours for Paws event at Chatham's Homeplace Vineyard, originally slated for Nov. 20 but postponed due to the food drive.
GreaterGood Charities is an independent 501(c)(3) charitable organization devoted to improving the health and well-being of people, pets and the planet. In addition to creating and operating a suite of programs, Greater Good Charities has given over $350 million in cash and product grants to charity partners and programs worldwide.
"This was a no-brainer and something I've wanted to do for a long time," Weinkauf said. "We finally got the opportunity and there was no way I was going to pass up on that."