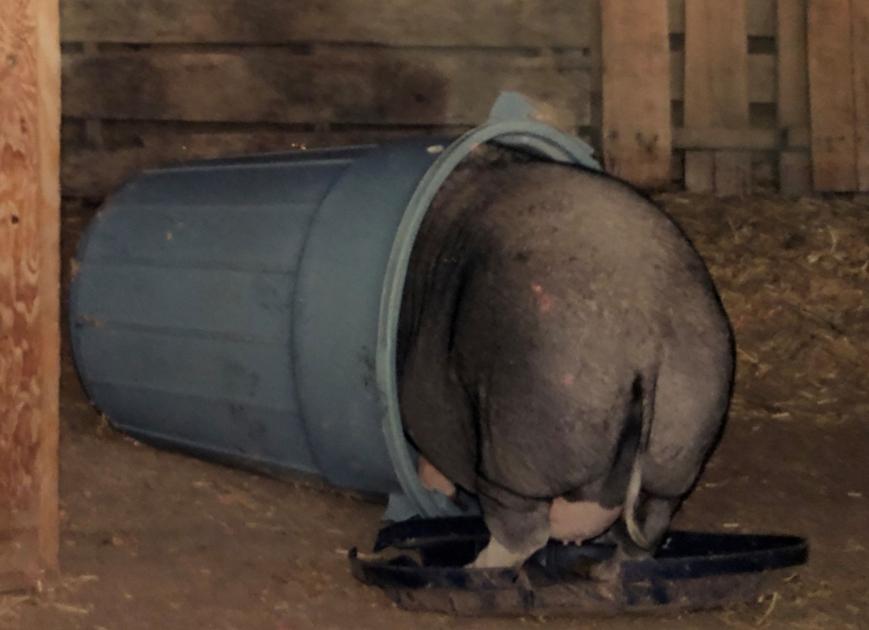 Pets and animals are earning their keep | Magazine
When my wife and I moved to the Yakima Valley back in the '90s, we bought a house in what was then the country. The couple we were buying from had a pet they weren't going to be able to keep: a 250-pound pot-bellied pig.
They asked if we'd like the pig, which they'd named Porkchop. When we gently declined, the husband shrugged. "Aw well, we'll just kill him then."
So of course, we were suddenly pig owners.
I shouldn't have been surprised.
In the 30-plus years I've been with Kathy, animals have always been part of the deal. She's simply not Kathy if she doesn't have a dog (or three) tracking mud through the kitchen, horses that eat hay by the ton and probably a cat or two skulking around suspiciously the way cats do.
Kathy loves animals. I like them as friends.
By my count, we've lived with, I dunno, roughly 60 million pets — and counting. We currently have two horses, a cat and two dogs, including an endlessly exuberant border collie/heeler puppy that our daughter thoughtfully dropped off a few months ago. Past pets have included that pig I mentioned earlier (we renamed him Gilbert, incidentally — Porkchop seemed kind of morbid), a disabled pigeon and a belligerent duck named Larry who had inappropriate intentions toward one of the female cats.
And don't even get me started on that stupid neighborhood peacock.
Whether they're sporting fur, feathers or fins, Kathy finds them all endearing. I find them digging in the yard, dismantling fences and burying poop in unexpected places.
But truth be told, once they move into our home, they're part of the family. Losing any of them, I have to admit, would be traumatic. Even for me.
So the theme of this month's issue — pets and animals — is one I'm taking especially seriously. (Kathy reads these things, see, and if I write anything derogatory or inaccurate about animals, I could be elbowing for pillow space between some of what she calls "the barn people" come bedtime.)
It's a subject that's clearly close to many of your hearts, too. Christine Conklin confirms that with her feature on how pets have helped people weather the COVID crisis.
And as Shannon Mahre shares, growing up with pets — horses, in her case — can have a profoundly positive effect on personal development.
It's not all animals this month, though. Guest writer Terry Campbell, a retired longtime copy editor for the Yakima Herald-Republic, describes how getting outside with her hiking group, the Cascadians, has helped her and others walk off the pains of the pandemic in recent months.
One final note: Out of respect for our animal friends, Andrea McCoy's Kitchen Captivated focuses on a tasty springy pasta dish. The recipe, I can assure my wife, doesn't include any pork.