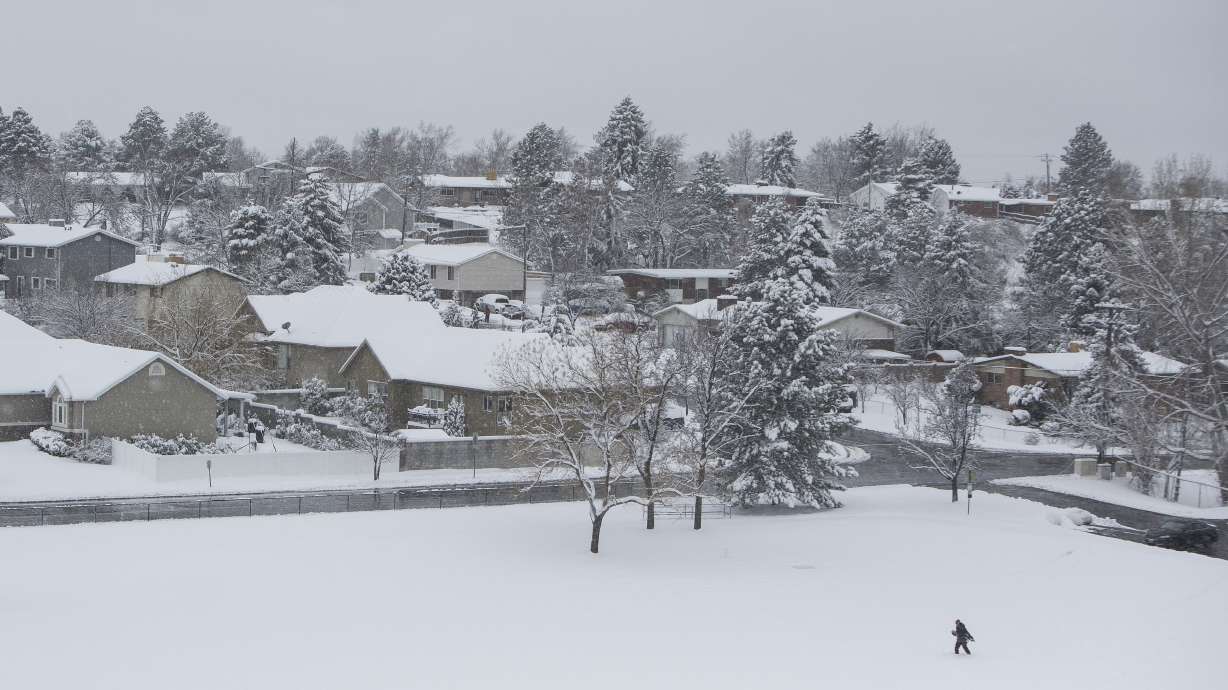 Police searching for man they say fled with dog after it attacked woman at Sandy park
A snowboarder hikes through the snow at Flat Iron Mesa Park in Sandy on March 4, 2018. Police say a dog attacked a woman sledding at the park on Friday. (Jacob Wiegand, Deseret News)
Estimated read time: 2-3 minutes
SANDY — A dog owner fled after the dog attacked a woman at Flat Iron Mesa Park in Sandy when she was sledding Friday evening, police said.
Bradley Mitton, the woman's father, said that the man saw what had happened, picked up the dog and ran away.
"It full-on attacked her," Mitton said.
He said that the dog bit her on the face and bit over her head, leaving scratches and bite marks all over her face. She was treated by emergency workers on the scene and went to the emergency room; she was released from the hospital early Saturday morning.
Mitton said they are hoping that she won't need plastic surgery.
The "medium-sized black dog" also bit others at the park, he said, but since people were wearing coats and heavy clothing most of them were not injured.
Mitton said that earlier on Saturday his daughter's own dog had been put down recently because of health issues; she was at the park sledding with her friends because they were trying to cheer her up.
They think the dog that attacked her belongs to someone named Steve, Mitton said, because they heard someone at the park saying "it's Steve's dog again." He has been trying to find the dog owner through Facebook.
Sgt. Clayton Swensen with the Sandy Police Department said that fire and medical officials responded to the scene after they were contacted at about 9:30 p.m. Animal control was contacted shortly after that, and it gathered information for a rabies control investigation.
Swensen said that dogs have a primal instinct which can cause them to chase, attack or bite when something is moving at a high speed, like someone on a sled. This is one of the reasons for leash laws at parks, and he said that there is a sign reminding people about leash laws at all of Sandy's city parks.
He also said that these incidents are why dogs are registered with the city; the registrations allow them to regulate rabies vaccinations and be aware of the animal's health in situations like these.
The police department is looking for information to identify the dog owner, and anyone with information is asked to contact Sandy police at 801-568-7200.
×
Related Stories
More stories you may be interested in