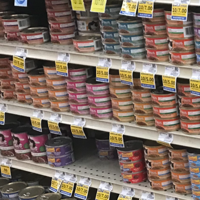 Supply chain disruption causes some pet food shortages | Pets
Have you noticed some empty shelves in the pet food aisle at your local grocery store?
The Johnson City Press contacted Ross Purdy at Food City to find out what's behind the shortage and when those shelves might be fully stocked.
Supply chain interruptions
Purdy is vice president of merchandising at Food City. He said problems that have plagued the country's product supply chain, causing bottlenecks and shortages, have had an impact on pet food.
And the biggest impacted segment of the pet food supply is canned food, especially canned cat food, according to Purdy.
"You have heard about all of the port issues, well this is having an impact on the supply of canned pet food," he said.
Some of the pet food companies import their pet food from other countries, Purdy said, and some of the domestic producers of pet food buy the cans for their food offshore. In either case, those supplies are caught up in the supply chain problem.
The supply chain disruption is also having some impact on dry dog food supplies, but not to the same extent as canned food, according to Purdy.
And many more pets
Another factor that plays into the pet food shortage is the increased number of dogs and cats pet owners are buying food for since the beginning of the COVID-19 pandemic. Reuters reported that about 12.6 million U.S. households indicated they acquired a new pet from March to December 2020.
Purdy said he expects there will be some improvement in the pet food supply during the early part of 2022.
And while you may not be able to find the specific brand your pet is used to, or a particular flavor, Purdy said Food City has plenty of pet food and a wide variety of it. "Your pet is not going to starve," he said.