Vikings Team with Animal Shelter & Pet Food Shelf to Make Paws-itive Impact
"Anything animal-related, my family's doing it. We love it," he smiled. "Every single one I…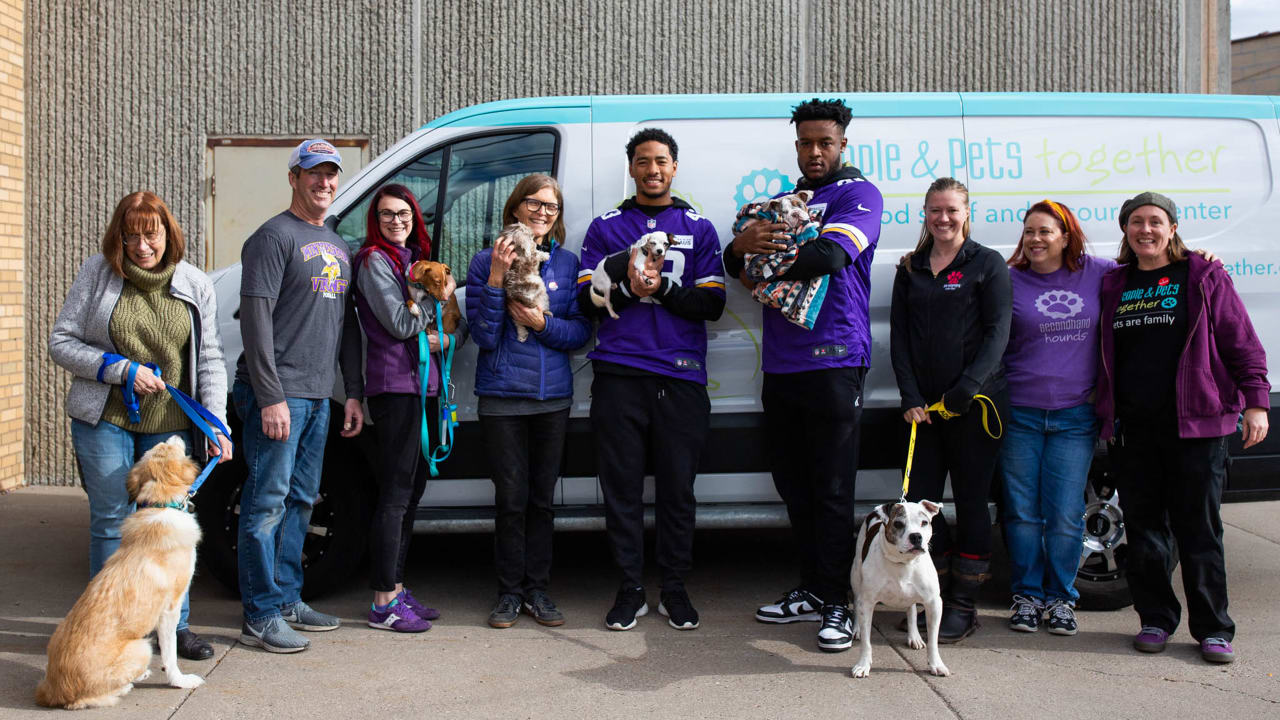 "Anything animal-related, my family's doing it. We love it," he smiled.
"Every single one I pet, I connect with," Bynum said. "I'm terrible when it comes to my emotional attachment to dogs. I pet them for five minutes, and I fall in love. It's tough."
Wonnum also is a dog-lover, having last year adopted Simba, an American bulldog. He also has a 13-year-old pup, Diego, who lives with his parents back home in Georgia.
"I love dogs; I always grew up with them," Wonnum said. "Being able to help find these dogs a new home is an amazing opportunity."
The 6-foot-5 defensive end gravitated toward Franny, an 11-week English bulldog born with Spina Bifida.
"I fell in love with [her] at first sight," Wonnum said with a smile.
He and Bynum posed for photos with the foster dogs, including Guinevere, a timid, 3-legged pup who needed a little coaxing from Wonnum before warming up to the camera.
Early in the COVID-19 pandemic when much of the world shut down and countless people transitioned to remote work environments, pet shelters around the country saw a large increase in adoptions.
But over the past several months, numerous families have opted to re-surrender their adopted pets as they've moved back into a "typical" flow of life.
"Unfortunately, a lot of rescue pets come with issues. And changes, like having their owners leave for hours at a time, cause anxiety and stress in pets, as they do in a family," Meador explained, adding that people often underestimate the time and energy needed to support a new animal in the home. "It can take months to sort of work through having separation anxiety, those kinds of things. We're seeing pets be returned at a really, really high rate, which is so unfortunate and is a real problem.
"There's a two-fold thing going on here," Meador continued. "The pet food shelf and the services we're going to offer people so they maintain their pets means fewer pets surrendered from that angle of things. And then in turn, hopefully people who are adopting and then returning will decrease as time goes on, too, through education and service delivery."